With the Kalmar DCG medium range forklifts we offer 13 diesel driven models with lifting capacities from 9-18 ton at 600-1200 mm load centre. Kalmar forklifts are known for their high quality concerning comfort, economic operations, reliability and smart handling. These characteristics , together with the best quality components, long lifetime and easy maintenance are at the base for an economic superior machine.
The Kalmar forklifts can be equipped with any kind of lifting equipment your business may require. For example: pipe clamps, multiple-pallet handlers, coilrams, … And in the rare cases that the right equipment is not available in the catalog, Feyter Forklift Services is able to develop and produce the specific needed attachment itself. Thanks to its close collaboration with other companies within the Feyter Group, such as Feyter Industrial Services.
Given the Kalmar forklifts' excellent adjustability, it's no surprise customers are found in such diverse industries as paper and pulp, wood, steel, concrete, offshore – just to name a few.
Recognized Quality
With Kalmar we offer you a top class forklift range. For many decades Kalmar has build a famous reputation in particularly port handling and heavy industries. With more than 65.000 units in more than 140 countries, Kalmar is the biggest manufacturer for heavy load transportation. In port logistics, 25% of all container movements is done by a Kalmar machine.
Low total cost of ownership
The philosophy of Kalmar is simple: Better performing machines and drivers will save money and time for your company. As for all Kalmar products counts that DCG90-180 models are constructed to perform during the lifetime of the machine at a maximum, and with costs-savings for the user or owner. The base for this comes from over 10.000 experienced customers with these models.
Thanks to Kalmar's focus on high quality components and production lines the result is a top quality product, which improves performance of the forklift and the driver to the maximum. For example, thanks to quality the uptime is very high, minimum downtime for maintenance, and thanks to the ergonomic cabin the driver will enjoy his work more, and stays fit until the end of the day.
Residual value of Kalmar products is extremely high, which improves the Total Cost of Ownership to the maximum.
Productive working environment
The new EGO cabin is a spacious workplace. Its curved glass window gives the operator excellent side-to-side and overhead visibility.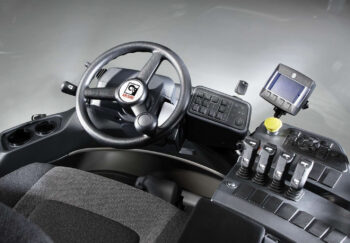 Reversible fan for dusty circumstances
This option will keep your radiator clean and protected against dust and dirt. Especially in circumstances like in wood industry.
180 degree turnable seat
The cabin can be equipped with a 180 degrees turnable seat (like we see in terminal tractors). This option improves safety and ergonomy for the driver when big loads are transported, which disturb the view in front.The driver can drive backwards more comfortable.
Load sensing hydraulic pump
The new variable hydraulic pump, adapts constantly the flow of oil, according the demand. Optimum oil flow results in better and faster operating and also the reduction of fuel consume (possible up to 40%).
Comfort pedals
A new flexible and safe pedal system with an adjustable pedal angle. Improves ergonomics and minimizes strain on the driver's foot. A floor-based solution gives a hanging pedal feel.
Complete and flexible climate control system that matches the high demands of the climate tested EGO cabin. Large air intakes. Easy filter replacement in the front. Complete driving comfort from well-dimensioned and -designed components.
Climate control
Kalmar offers a complete range of duplex and triplex masts with clear view. Standard and custom lifting equipment – carriage, fork shaft, forks, levelling, etc – and options suit your specific lifting and cargo handling requirements.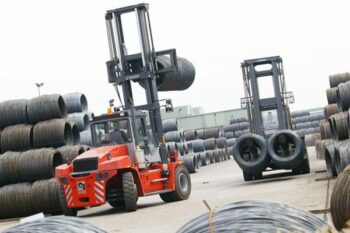 Volvo and Cummins engines
You can equip the drive train of the new Kalmar DCG90-180 with one of two different diesel engines: from Volvo or Cummins. Both are powerful, durable, reduce fuel consumption and compliant with the latest emission standards.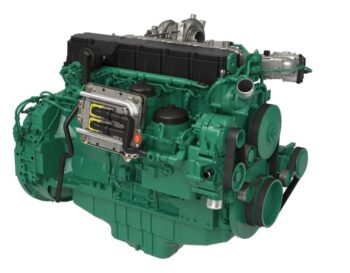 Advanced electronics
Kalmar's electronic system is a fast, intelligent and stable system that makes the truck more reliable and user-friendly.
CAN-bus
A modern, distributed and redundant CAN-bus (Controller Area Network) monitors and controls the condition and performance of the engine, gearbox, valves and some 500 measuring points in the engine – 50 times every second.
Transmission
The electronically controlled gearbox allows comfortable, efficient and safe driving at all speeds and operating lifting equipment with high precision. We offer a wide range of gearboxes to match your needs and preferences.
The Kalmar DCG90-180 series consists of 13 different models. In the specifications overview below we show you the specifications of the biggest model: DCG180-6
| | |
| --- | --- |
| Brand | Kalmar |
| Max. Capacity | 18000 kg |
| Lifting Height | 7000 mm |
| Capacity range | 9000 - 18000 kg |
| Drive | Diesel |
| Transmission | ZF |
| Load center | 600 mm |
| Truck weight | 21600 kg |
| Number of wheels, front / rear (x=driven) | 2x / 2 |
| Width | 2540 mm |
| Turning circle radius | 4570 |
| Engine, brand | Volvo / Cummins |
| Engine, type | Volvo TAD871 VE / Volvo TAD572 VE / Cummins QSB6,7 |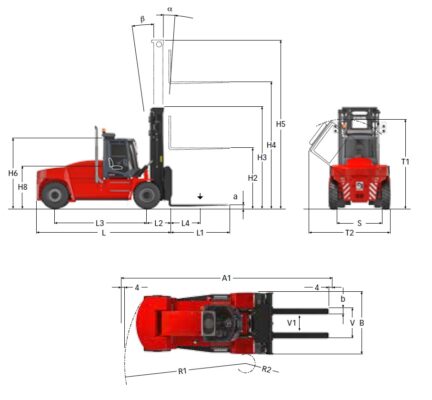 "*" indicates required fields

Contact our specialist
Tigran
Key Accountmanager - Heavy Equipment Division
"*" indicates required fields

Contact our specialist
Tigran
Key Accountmanager - Heavy Equipment Division
"*" indicates required fields

Contact our specialist
Tigran
Key Accountmanager - Heavy Equipment Division
Impression