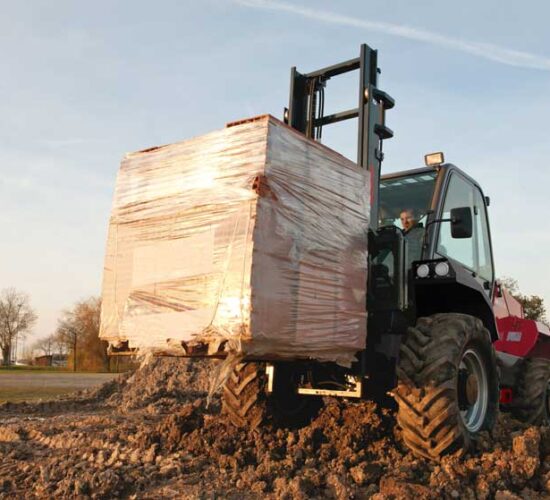 Our material handling solutions:
Telehandlers
Rotating Telehandlers
(Semi) Rough Terrain Forklifts
Powerful Electric Forklifts
Skid Steer Loaders
Aerial platforms
Wide variety of specialists
Bricklayers, roofers, specialists in metal constructions and carpentry, professionals in facade cladding, insulation, demolition, tunnel construction, experts in the renovation and restoration of monuments… The variety of expertise within the construction sector is large to say the least.
Today, all of these construction specialists rely on the performance of material handling machines to work efficiently on their construction site.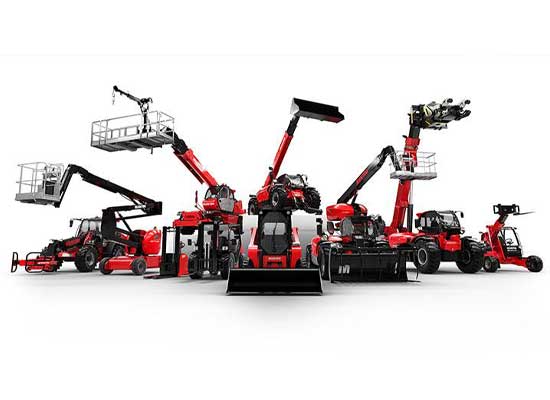 Official Manitou dealer
As official dealer of Manitou we support entrepreneurs and craftsmen in all their tasks: working on rough terrain, preparation of constructions (stripping, clearing debris, supplying materials, making the base, preparing the ground), installing load-bearing elements, covering the structure, installing trusses, cladding the whole without scaffolding (placing cladding panels, installing steel tanks, …), …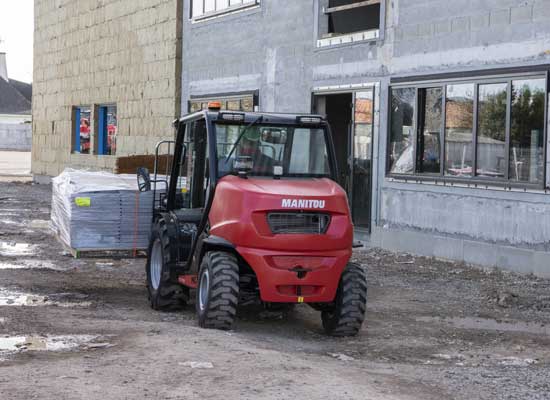 Rough terrain forklifts
In the construction sector, the Manitou (semi) rough terrain forklifts are a frequently used aid. With Manitou's M30 and M50 four-wheel drive forklifts, we offer machines that can move loads up to 5 tons on any type of terrain. For slightly less difficult terrain, where compact dimensions may be more important, there are the MSI and the MC semi-rough terrain forklifts.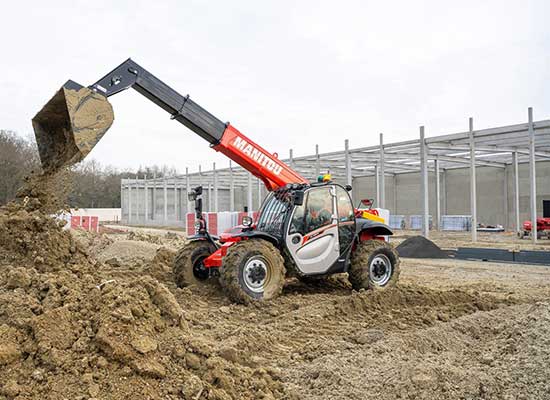 Telehandlers
Do you need a machine that can not only handle goods over rough terrain, but also a greater lifting height to place these goods at height? Or a machine with a large forward reach? Then the Manitou telehandler comes into the picture.
The Manitou MT series of telehandlers is developed specifically for the construction sector. The range offers a lifting height of up to 18 meters.
For working in confined spaces there is a specific, ultra compact series with the Manitou MT-420 and the MT-625. These combine the advantage of excellent maneuverability (high ground clearance, 4-wheel drive and 4-wheel steering) with compact dimensions. These machines can pass through openings of only 2 by 2 meters.
Every Manitou telehandler can be fitted with a wide range of attachments – crane arms, winches, buckets, etc. – making them the multi-purpose workhorses of the construction site.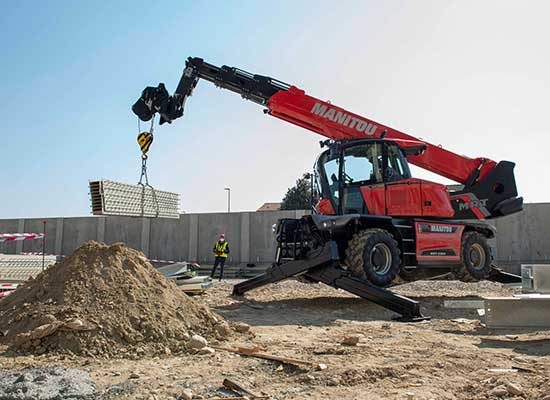 Rotating telehandlers
The Manitou MRT rotating telehandler is even more versatile than the MT telehandler. This machine can be seen as a 3-in-1 concept and can be used as a telehandler, aerial work platform and as a compact crane.
With their 4×4 driven wheels, three steering modes (2 wheel steer, 4 wheel steer, Crab mode) and high ground clearance the Manitou rotating telehandlers are fully capable of working on rough terrain.
Working with an MRT ensures that you benefit from increased profitability because you only need one machine to replace several.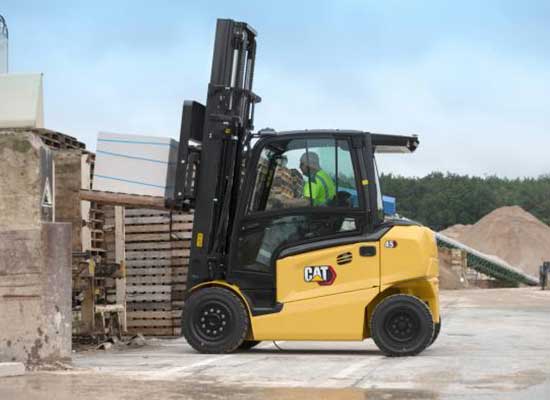 Electric driven forklifts
For the transport of goods on sites where rough terrain capabilities are less important, a more industrial solution is usually sufficient. With Mitsubishi and CAT we offer a full range of robust lift trucks with lifting capacities from 1.5 to 5.5 tons. Are you dealing with heavier loads? Then we have forklifts up to 33 tons from Kalmar to offer.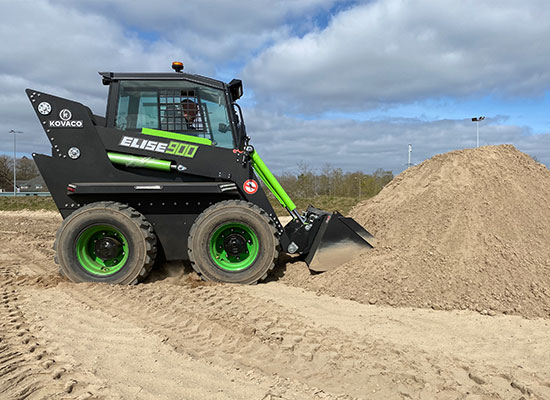 Electric skid steer loaders
Skid steer loaders are versatile machines and suitable for all kinds of applications. Thanks to a wide range of attachments, such as pallet forks, a bucket, auger, digging arm, dozer blade, sweeper and much more. The multifunctional use in combination with the compact dimensions makes the machine ideal for construction.
With the Elise-900 from KOVACO, we offer the world's first fully electric skid steer loader. The machine meets the criteria of modern times: The Elise-900 is emission-free, operates almost silently, requires little maintenance and can be operated remotely.
Kovaco skid steer loaders in construction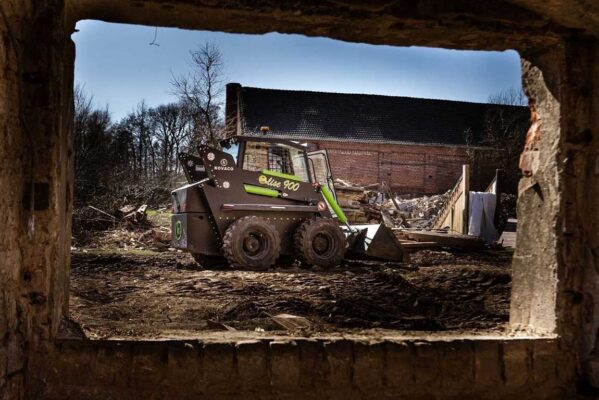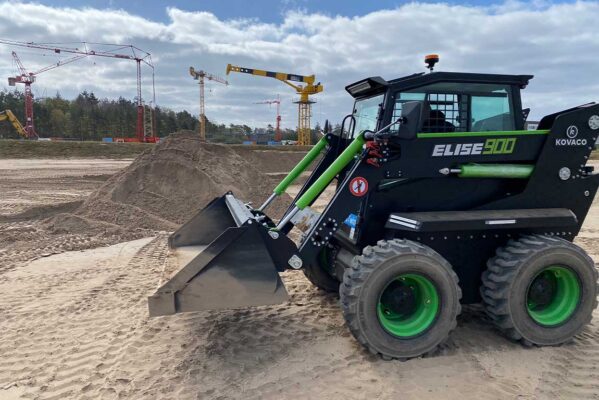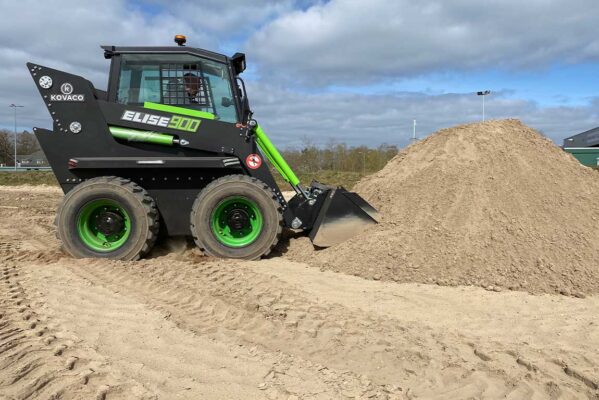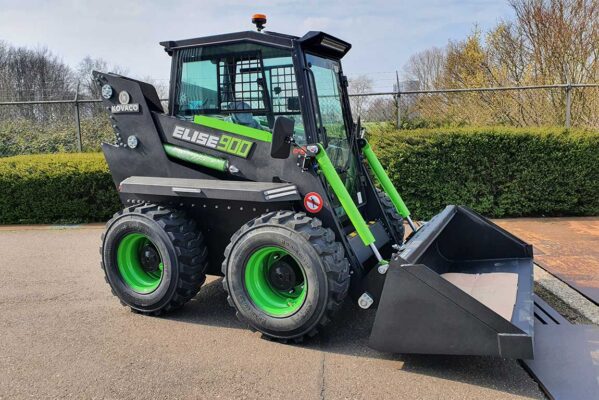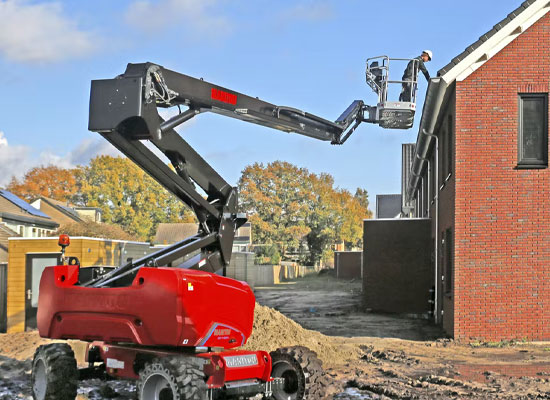 Aerial work platforms
Manitou designs equipment specially adapted to roofing activities. Professionals in the sector can count on a complete range of latest-generation machines: Rotary telescopic telehandlers with work platforms (baskets), fixed telescopic handlers (MT range) and aerial work platforms.
With its unique rough terrain capabilities, the Manitou ATJ aerial work platform series allows you to reach any location on the construction site, up to a height of 20 meters.
These high-performance machines enable roofers to carry out their operations with safety in mind. Apart of laying tiles, slates, sheet metal, shingles, roofing repair, total covering or crawling operations, the Manitou aerial work platforms can carry one or more roofers and different loads depending on the nature, offset and height of the work.
100% electric
On rough terrain working at heights of up to 20 meters; Now it's possible with this fully electric Manitou 200 ATJ-E. This machine is extremely important for Manitou, a global player in mobile aerial platforms, while emission-free working will soon be the norm, especially in European urban areas.
The electric Manitou 200 ATJ-E has all the features to facilitate your work at height: galvanized spacious workplatform, durable chassis design, high ground clearance, active oscillating axle, 4WD, unique load capacity for an articulated boom, 4 simultaneous movements, …
Enjoy this performance to optimize your operations on rough terrain, uneven or muddy ground. The articulated 200 ATJ E electric MEWP allows you to work safely up to 20 meters in height, outdoor or indoor thanks to the 100% electric engine and operation without CO2 emissions.