De diesel aangedreven 200ATJ hoogwerker beschikt over drie knikarmen, waarvan de laatste telescopisch. Hiermee zijn deze ruwterrein hoogwerkers bijzonder flexibel, wat het mogelijk maakt om lastige plaatsen te bereiken. De ATJ is er naast de 20 meter versie ook in kleinere uitvoeringen met 16 of 18 meter werkhoogte.
Als u voornamelijk werk op buitenterreinen uitvoert, op oneffen of onverhard terrein, dan is de Manitou ATJ een goede partner voor alle werkzaamheden op hoogte. Met zijn ruwterrein banden, bodemvrijheid van 43 cm en robuuste chassis kan deze hoogwerker op vrijwel ieder terrein uit de voeten. Dankzij zijn groot vermogen is het overbruggen van steile hellingen geen probleem en worden alle hydraulische bewegingen snel uitgevoerd.
De ATJ serie van Manitou bestaat uit 6 modellen, variërend in werkhoogtes van 16, 18 en 20 meter. Naast de standaard diesel aangedreven machines is de ATJ serie ook beschikbaar met elektrische aandrijving, de ATJ-E. Hieronder benoemen we de specificaties van de diesel aangedreven 200ATJ. De elektrische aangedreven machines vindt u op de ATJ-E productpagina.
| | |
| --- | --- |
| Merk | Manitou |
| Maximale capaciteit | 230 kg |
| Working Height | 20350 mm |
| Model | 200-ATJ |
| Aandrijving | Diesel |
| Eigen gewicht | 10.050 kg |
| Breedte | 2.47 m |
| Draaicirkel | 3. 90 m |
| Rijsnelheid, met / zonder lading | 4.70 km/u |
| Motor, merk | Yanmar |
| Motor, type | 3TNV88C |
| Motor, vermogen | 25.5 kW |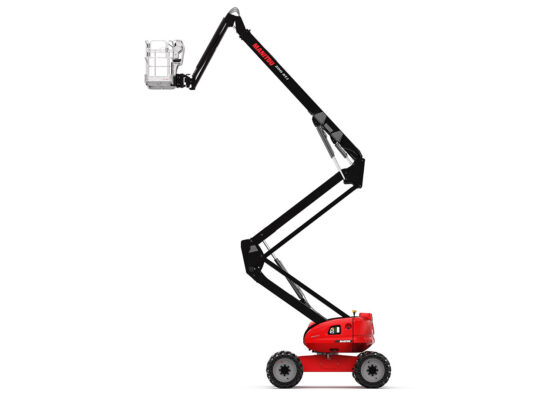 "*" betreft noodzakelijke velden

Meer weten? Neem contact op
Marco Stapel
Accountmanager - Light Equipment Division
"*" betreft noodzakelijke velden

Meer weten? Neem contact op
Marco Stapel
Accountmanager - Light Equipment Division
Afbeeldingen