The Manitou MLT-625-75H rough terrain telescopic handler has been developed with ultra compact dimensions. At less than 2m high, 1.81m wide and a ground clearance of 38cm, the MLT-625 can easily enter your buildings and operates in areas which are inaccessible to other machinery. It will enable you to carry out all farm handling operations: animal feed, bale handling, bulk loading and unloading.
Compact and versatile
Dairy and livestock farms, nurseries, poultry or any operation where space is restricted, you will appreciate all the qualities of this machine. More than just a handling solution, with this Manitou MLT-625 we offer you a machine which both looks good and is comfortable to use: the interior and exterior have incorporated the latest modern design technology.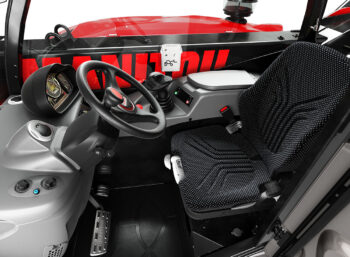 Ergonomic cabin
The driving position has been designed with operator comfort in mind. Low noise levels and improved driver productivity is achieved due to the full soundproofing of the cab (only 76 dB) and engine compartment areas. The dashboard has a digital display which gives all the information you need during work.
4 x 4 x 4
The Manitou MLT-625 can fully access the majority of your working environment. With four wheel steering, four wheel drive, the compact dimensions of your machine and its excellent turning circle makes it easy to fulfil your daily tasks.
All terrain
In addition to its ground clearance of 38 cm, the Manitou MLT-625 is fitted with 18" agricultural profile tyres. The excellent traction and grip allows the machine to operate on all types of terrain. You can work in any situation and versatility becomes part of your daily life.
Classic, Premium, Elite
The Manitou MLT-625 is available in 3 standard variations with different levels of finish: Classic, Premium and Elite.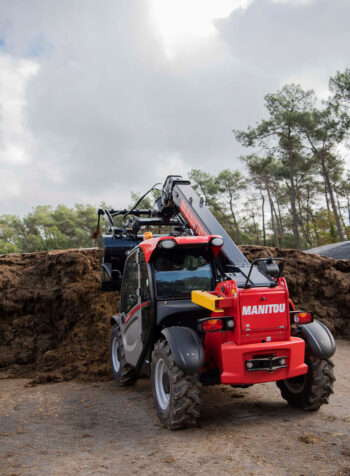 Hydraulic performance
The 90 l/min, 235 bar hydraulic gear pump provides high flow hydraulic performance for a machine of its class. Combined with the JSM lever it enables you to achieve fast working cycles.
| | |
| --- | --- |
| Brand | Manitou |
| Max. Capacity | 2500 kg |
| Lifting Height | 6000 mm |
| Model | MLT-625 75H |
| Drive | Diesel |
| Transmission | Hydrostatic |
| Truck weight | 3922 kg (with forks) |
| Number of wheels, front / rear (x=driven) | 2x / 2x |
| Length (ex. forks) | 3.90 m |
| Width | 1.81 m |
| Turning circle radius | 3.31 m |
| Travel speed, with / without load | 25 km/h |
| Engine, brand | Kubota |
| Engine, type | V3307-CR-T-E5B |
| Engine, output | 55.4 kW |
"*" indicates required fields
"*" indicates required fields
"*" indicates required fields
Impression