Kalmar introduceert 's werelds eerste elektrisch aangedreven reachstacker. De ERG reachstacker helpt de efficiëntie van uw container handling te verbeteren en tegelijkertijd de hoogste niveaus van productiviteit en veiligheid te behouden. Diverse modulaire batterij-opties en oplaadoplossingen maken het mogelijk om een oplossing op maat te creëren voor optimale prestaties.
Met zijn elektrische aandrijving produceert deze Kalmar Reachstacker nul CO2-uitstoot aan de bron, waardoor ze vanzelfsprekend duurzamer, schoner en veiliger zijn. U kunt de CO2-uitstoot én de kosten nog verder terugdringen door het gebruik van zelfstandig opgewekte, groene energie middels zonnepanelen of windmolens. De aanschaf van een elektrisch aangedreven reachstacker is slechts het begin van uw eco-efficiënte reis. Samen met Kalmar ondersteunen wij u graag bij elke stap in de goede richting.
Garanties
Alle Kalmar elektrische reachstackers worden geleverd met 2 jaar/4000 uur garantie. Oplaadoplossingen zijn gedekt voor 2 jaar en batterijen tot 5 jaar. Optioneel is het mogelijk om te kiezen voor extra garanties tot 10 jaar voor de reachstacker en 5 jaar voor de lader.
Video: Introductie Kalmar elektrische reachstacker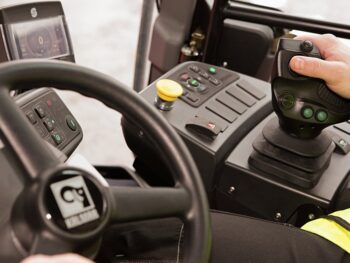 Bediening
De elektrisch aangedreven reachstacker is leverbaar met een ruime keuze aan joysticks of bedieningshendels, een elektronisch verstelbare werkconsole en een zijdelings kantelbaar stuur. Allemaal ontworpen om het bedienen van de reachstacker eenvoudiger en efficiënter te maken.
Modulair
De batterijen en opladers vormen een belangrijk deel van uw totale investering, waardoor het van cruciaal belang is dat u een oplossing krijgt die is afgestemd op uw operatie. Daarom heeft Kalmar hierbij voor een modulaire benadering gekozen. Er zijn vier verschillende laadoplossingen met laadvermogens van 175-350 kW en vier verschillende Li-ion accu's om uit te kiezen.
Garantie batterij
De batterijoplossingen worden allemaal geleverd met 5 jaar garantie en hebben een verwachte levensduur van 10-12 jaar*. Kalmar kan u helpen bepalen welke batterijoptie en oplaadoplossing geschikt is voor uw bedrijf op basis van uw huidige werkcycli.
Veiligheid
Een elektrisch aangedreven hoogspanningssysteem moet extra veilig zijn. Daarom is alle bedrading omhuld en afgeschermd. Als een verbinding wordt onderbroken, wordt het hele systeem automatisch uitgeschakeld om bestuurder en omstanders veilig te houden.
De serie elektrische Kalmar Reachstackers bestaat uit in totaal 8 modellen. Hieronder tonen we de specificaties van de ERG450-65S5.
| | |
| --- | --- |
| Merk | Kalmar |
| Maximale capaciteit | 45000 kg |
| Max. hefhoogte | 15100 mm |
| Hefcapaciteit | 45000 kg |
| Model | ERG450-65S5 |
| Aandrijving | Elektrisch |
| Transmissie | Bosch Rexroth |
| Lengte (excl. vorken) | 11700 mm |
| Breedte | 4150 mm |
| Draaicirkel | 8500 (20" container) - 9400 mm (40" container) |
| Rijsnelheid, met / zonder lading | 25 / 20 km/u |
"*" betreft noodzakelijke velden

Meer weten? Neem contact op
Tigran van der Linden
Accountmanager - Heavy Equipment Division
"*" betreft noodzakelijke velden

Meer weten? Neem contact op
Tigran van der Linden
Accountmanager - Heavy Equipment Division
Afbeeldingen