De Mitsubishi AXIA-EM stapelaar is beschikbaar met een vast of een opklapbaar platform. Het biedt de bestuurder de mogelijkheid om zelf te kiezen om achter de machine te lopen of mee te rijden. De AXIA is geschikt voor pallettransport over korte, maar ook lange afstanden. De machine is robuust en te voorzien van batterijwisselrollen voor het snel wisselen van batterijen. Daarom is het een ideale stapelaar voor zware inzet en ploegendiensten.
Stapelaar voor de zware inzet
De warehouse machines van Mitsubishi zijn afkomstig uit de Zweede fabriek, voorheen bekend van Atlet, dat op ging in de Mitsubishi groep. De Atlet producten staan al vele jaren bekend om de doordachte concepten op gebied van productiviteit, ergonomie en veiligheid.
De typische, ergonomische stuurarm van de Mitsubishi stapelaars zorgt er voor dat de bestuurder de machine met beide handen kan besturen en steeds alle bedieningsfuncties binnen handbereik heeft.
De Mitsubishi AXIA laat de keuze aan de bestuurder om wel of niet op het platform mee te rijden. Het opklapbare bestuurdersplatform is robuust en schokabsorberend. Optioneel zijn er ook diverse vaste platforms beschikbaar.
Een stapelaar huren of kopen
Onze Mitsubishi stapelaars zijn beschikbaar voor zowel verkoop als verhuur. Feyter Forklift Services is al ruim 25 jaar de partner voor bedrijven op ge bied van verkoop, verhuur en onderhoud aan heftrucks en magazijntrucks in Zeeland en Brabant. In al die jaren hebben wij een ruime ervaring opgebouwd wat een adequate service aan de heftrucks garandeert.
Heeft u niet continu een stapelaar nodig, dan kan het interessant zijn om te kiezen voor korte termijn huur. U geniet met huur van verschillende voordelen ten opzichte van aanschaf. Denk bijvoorbeeld aan zekerheid op gebied van uitgaven, als gevolg van een vast huurtarief en het feit dat u niet verantwoordelijk bent voor onderhoud.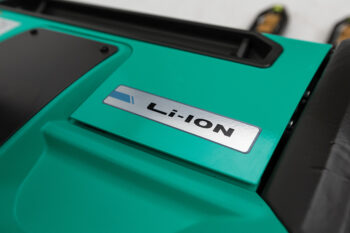 Li-ion battery
Fast charging - removing the need for extra batteries. (Optional)
Left-handed or right-handed controls
The tiller arm's versatile design allows for operation from either side.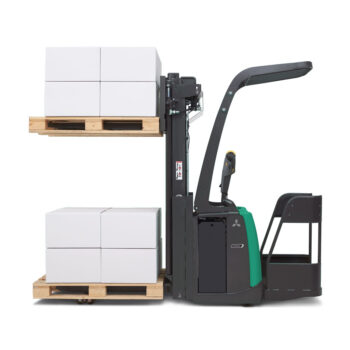 Initial Lift
Can be used as a double pallet handler. (Optional)
Power steering resistance
Natural driving experience to engage drivers and keep them alert.
PIN-code access
Stops unauthorised truck use and keeps you aware of who's operating at all times.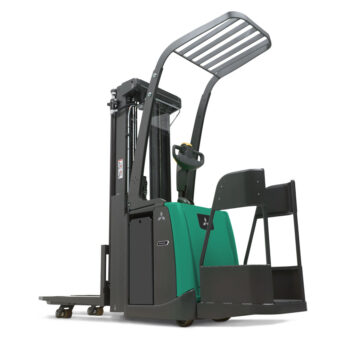 Dampened platform
Besides the foldable side arms for protection it's also possible to choose for fixed side protectors, allowing the operator to stay in a more natural driving position for greater comfort throughout shifts.
Powerful AC drive motor
Excellent traction and ramp performance, smooth, quiet, controlled operation, extended shift length and lower maintenance requirements.
| | |
| --- | --- |
| Merk | Mitsubishi |
| Maximale capaciteit | 1600 kg |
| Max. hefhoogte | 5400 mm |
| Hefcapaciteit | 1600 kg |
| Model | SBV16P |
| Aandrijving | Elektrisch |
| Lastcentrum | 600 mm |
| Eigen gewicht | 3600 kg |
| Maximale hefhoogte | 5400 mm |
| Lengte (excl. vorken) | 990 / 1374 mm |
| Breedte | 770 mm |
| Draaicirkel | 1790 / 2175 mm |
| Rijsnelheid, met / zonder lading | 8.5 / 8.5 km/h |
| Hefsnelheid, met / zonder lading | 0.16 / 0.33 m/s |
| Daalsnelheid, met / zonder lading | 0.39 / 0.31 m/s |
| Batterij voltage / capaciteit | 24V / 220Ah - 400Ah |
| Electromotor regeling | AC |
"*" betreft noodzakelijke velden

Contact our specialist
Marco
Accountmanager - Light Equipment Division
"*" betreft noodzakelijke velden

Contact our specialist
Marco
Accountmanager - Light Equipment Division
Afbeeldingen