De elektrische pallettrucks uit de PREMIA-EM serie van Mitsubishi is beschikbaar in drie varianten: met een opklapbaar platform voor de bestuurder, met een vast platform met achter-instap, of met een vast platform met zij-instap. De pallettruck is geschikt voor het transport van pallets over korte tot middellange en zelfs lange afstanden. Voor laad- en lostransport en voor incidenteel orderpicken op laag niveau.
De PREMIA-EM elektrische pallettruck is leverbaar in een 2-tons of 2,5-tons uitvoering. Voorzien van een zwaar uitgevoerd chassis in 3 mogelijke formaten - mini, junior en senior - om aan alle accu-eisen te voldoen. Het mini-chassis is bovendien het kortste op de markt. Feyter Forklift Services is uw heftruckdealer voor Zeeland, Zuid-Holland en West-Brabant. Heeft u een pallettruck, heftruck of ander type magazijntruck nodig? Vraag ons om een offerte voor koop, huur of leasing. Als u eerst meer informatie wenst kunt u ook vrijblijvend een afspraak maken met één van onze product specialisten.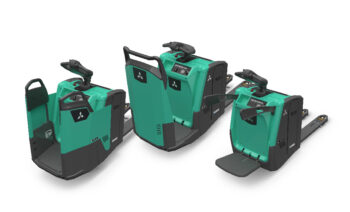 Choose the ideal platform...
for your specific situation. A foldable platform with sidebars, a fixed platform with side entry or a fixed plaform with rear entry.
Dampened platform
Foldable platforms and side/rear entry platforms are dampened to ensure minimum vibrations and bumps for greater operator comfort. (All models).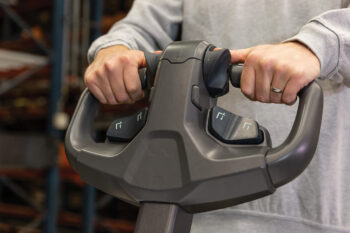 Ergonomic ErgoSteer tiller head
Best-in-class, weather-protected and impact-resistant tiller head with large, easy-to-reach buttons placed at a patented ergonomic distance for reduced fatigue and safer operation. IP65 rated.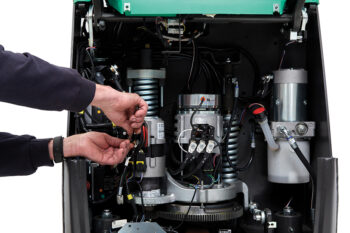 RapidAccess for maintenance
The RapidAcces concept allows quick and easy entry to all areas for checks and maintenance.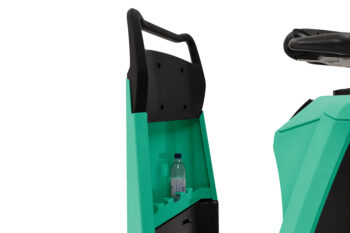 Storage compartment
Operator can store tools and other required items.
Traction Plus
Spring-loaded and hydraulic system works with DriveSteady to continuously increase pressure of the drive wheel. This ensures optimum traction on wet surfaces for better productivity and minimal risk of accidents.
Pin-code access
Stops unauthorised truck use and keeps you aware of who's operating at all times.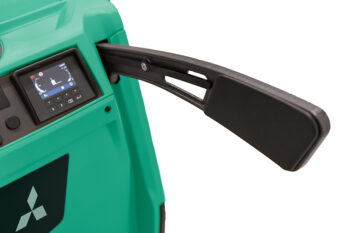 Foldable side bars
High, cushioned ergonomic side bars can be moved up or down and can be quickly switched to suit different operations.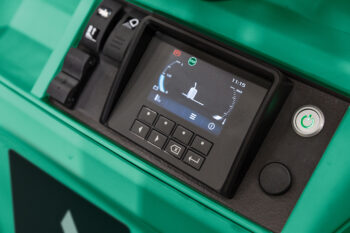 Multifunctional display
Shows truck mode, status and drive speeds using easy to read icons, as well as error codes. (option).
Foot protection
If the operator's foot is outside of the platform, the truck reduces speeds and stops to prevent risk of injury. (rear entry models only).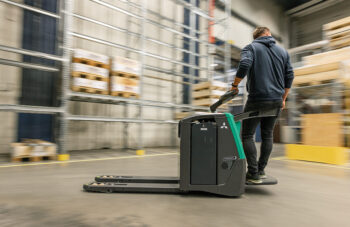 Compact chassis
Robust and highly optimised to be the shortest in its class.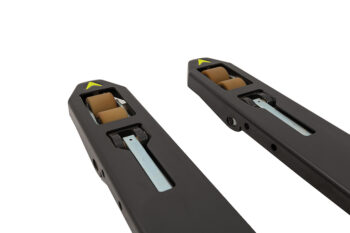 Tapered forks
Access to pallets in racks or block stacks is easier, quicker and safer.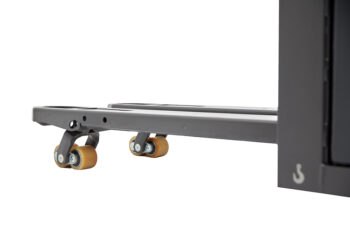 Market-leading lift height of 220mm
Ideal for handling on steep ramps, loading docks and uneven surfaces, even when using recycled pallets.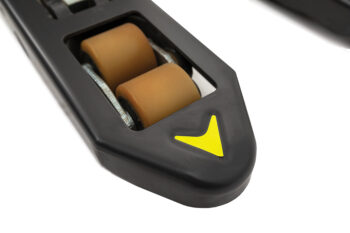 Robust forks
Strong welded construction with rounded tips for effortless pallet entry.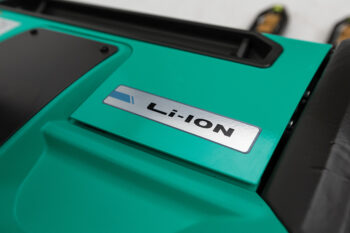 Li-ion battery
Fast opportune charging removes the need for extra batteries and allows 24/7 operation. (Available on mini and junior chassis).
Powerful AC motor
High torque for greater efficiency. No carbon brushes mean lower servicing requirements.
| | |
| --- | --- |
| Merk | Mitsubishi |
| Maximale capaciteit | 2500 kg |
| Max. hefhoogte | 135 mm |
| Hefcapaciteit | 2000 - 2500 kg |
| Aandrijving | Elektrisch |
| Lastcentrum | 600 mm |
| Aantal wielen, voor / achter (x = aangedreven) | 4 / 1 × +2 |
| Lengte (excl. vorken) | 1880 / 2256 mm |
| Breedte | 740 mm |
| Draaicirkel | 1666 / 2019 mm |
| Rijsnelheid, met / zonder lading | 10 / 10 km/h |
| Hefsnelheid, met / zonder lading | 0.07 / 0.09 m/s |
| Daalsnelheid, met / zonder lading | 0.12 / 0.09 m/s |
| Batterij voltage / capaciteit | 24 V / 222 -300 Ah |
| Electromotor regeling | AC |
"*" betreft noodzakelijke velden
"*" betreft noodzakelijke velden
Afbeeldingen